Advanced Wing Chun Classes Rayleigh
The Advanced Wing Chun Classes Rayleigh Essex are held at the National HQ.  These classes are are conducted by Master James Sinclair the founder and chief instructor of the UK Wing Chun Kung Fu Assoc. The Association was formed in 1985.
Well done YOU made it to the Advanced Class!
In the Advanced Class YOU will be training alongside the most talented students and instructors in the UK.
Your training in our our advanced classes is private, with only the students dedicated and skilful enough to pass their Sui Nim Tao grading permitted to attend.
In this class the whole of the Wing Chun System will unfold in front of YOU.
All of our our Open-Handed Forms including the Siu Nim Tao, Cham Kiu and Biu Tze will be revealed.   The Wooden Dummy and Weapons will also form an integral part of your training.
Dedicated training at this level will make YOU a highly skilled close quarter fighter.
Alongside skilful, like minded people, YOU will develop the concepts of Wing Chun fighting taking your skills to new levels, continuing too grow into that most admired of positions… A true Martial Artist.
– See more at the home of UK Wing Chun.
Advanced Wing Chun Classes Rayleigh Essex Requirements
The students attending these classes have passed the first two grading and will have trained in excess of 3 years.  We do not run a grading system defined by coloured belt attainment, instead you move on pure recognised by your merit through ability.  Students are separated into classes according to grading attainment.
WING CHUN WEAPONS TRAINING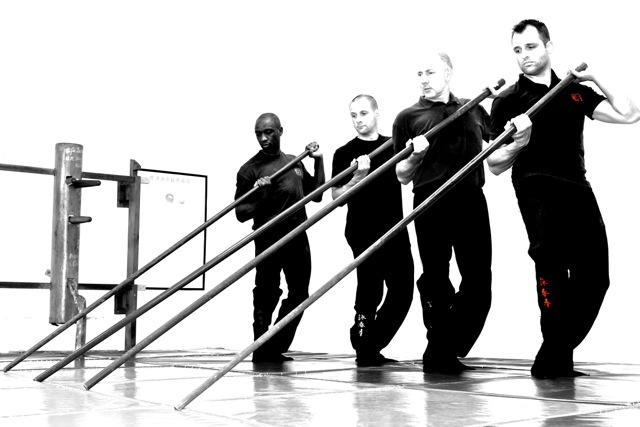 There are no secrets in Wing Chun, just material that you have not have learnt yet.  The emphasis is on YET!
The Advanced Wing Chun classes will cover everything from sticky hands to the weapons training.
For more details on the basic syllabus we use please visit the main site of the UK Wing Chun Kung Fu Assoc.